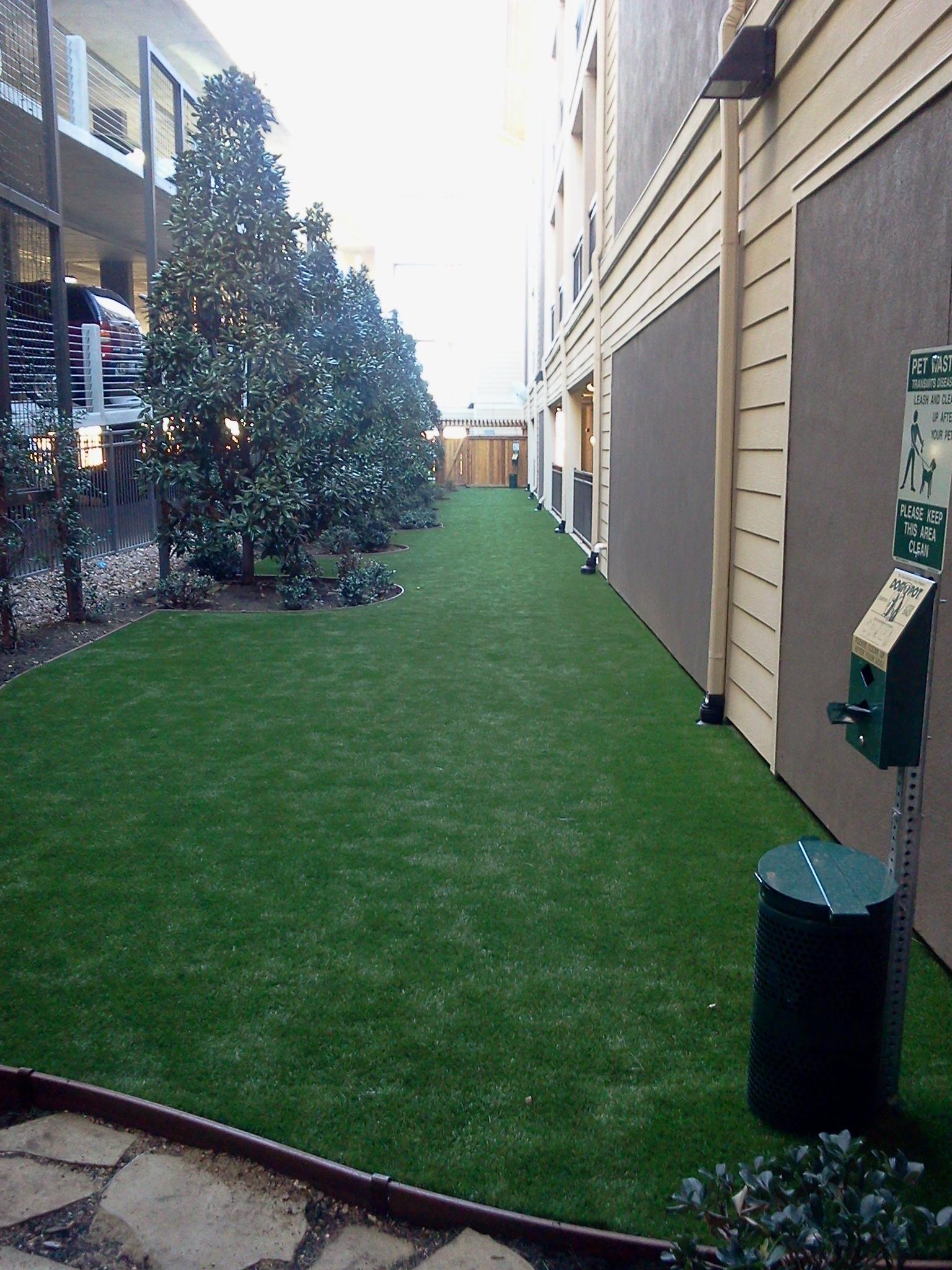 The use of artificial grass is increasing in popularity for both residential and commercial applications.
This lawn surface material is perfectly suited for a wide variety of applications including lawn areas, pet areas, playgrounds and decorative commercial settings. Our synthetic turf has evolved greatly since the original Astro Turf days. Today it looks amazingly like a natural rye grass surface and has significant benefits making it better than natural grass for many uses. A few of these benefits include:
It is environmentally friendly saving water, chemicals and pollution from lawn care equipment,
It provides soft green inviting lawn options for spaces that either have too much shade or too much foot traffic for natural grass,
Home playground areas can now become attractive, fall zone safe, clean surfaces as opposed to partitioned areas that use mulch or pea gravel spaces that take away and break up large portions of the lawn,
The lawn turf is a perfect solution for pets; it is both durable and inviting keeping the pets, lawn and your home clean,
More than anything our lawn grass solutions create a very low maintenance beautiful lawn for homes and businesses that look consistently attractive throughout the year.
Green Links has designed and installed hundreds of lawn turf installations across the area. The installations typically include drainage networks under the turf and a graded gravel base to provide long term stability. The synthetic turf fibers are 1 to 2 inches deep depending on the turf style selected.  These long fibers are filled with a special rounded sand. Optionally, we also provide specialty infill products to help alleviate odors from pet wastes and/or antimicrobial coated products to reduce the opportunity for fungal or bacterial growth within the turf.  To soften the lawn surface especially for playground and play equipment areas we offer cushioned pads that are placed below the turf and on top of the prepared gravel base.
Get a FREE Artificial Grass Design and Installation Estimate Today!