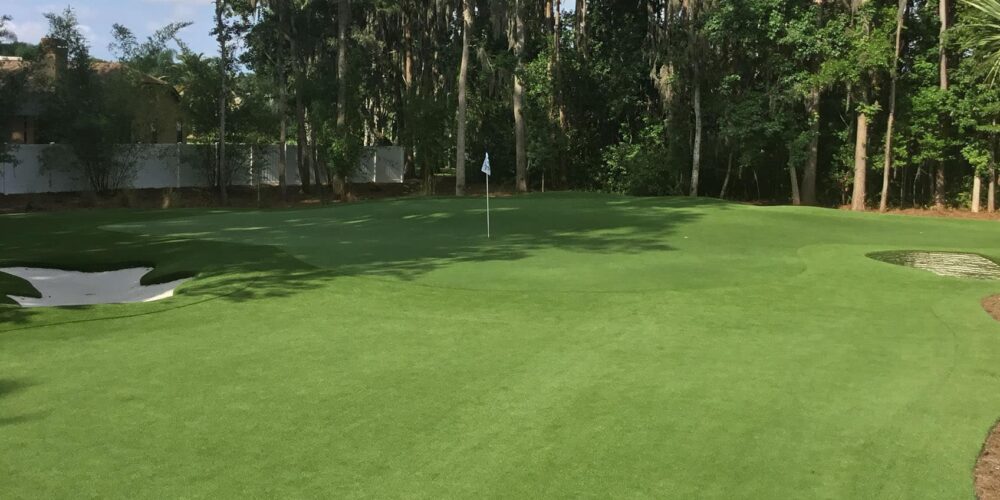 Synthetic Turf Putting Greens:
Green Links has designed and built over 800 golf greens.
These golf green installations include the following:
Smaller home installations that are primarily used for putting surfaces
Larger home practice greens including room to hit shots into the green, practice nets for swing practice and sand bunkers
Ranch installations that will accept full shots from 175+ yds. The ranch single greens often include a larger 2500+ sq.ft. green with several tee locations to play a variety of shots into the green.
Ranch courses include a series of 3 – 6 full scale golf holes with synthetic tee boxes and greens. We have designed and completely built country club quality golf holes including contoured tiff fairways, irrigation systems, sand bunkers and landscaping.
Commercial installations are typically larger size putting greens used as entertainment amenities within multi-family communities.
Commercial golf course installations include practice and teaching center greens such as our installation at River Oaks CC.  We also have tee line installations in use for practice range applications.
The Green Links staff has deep golf green design and installation experience. Our turf products and installation techniques are unique and reflect our 13 years of experience. These enable us to deliver beautifully designed golf surfaces that deliver premium performance.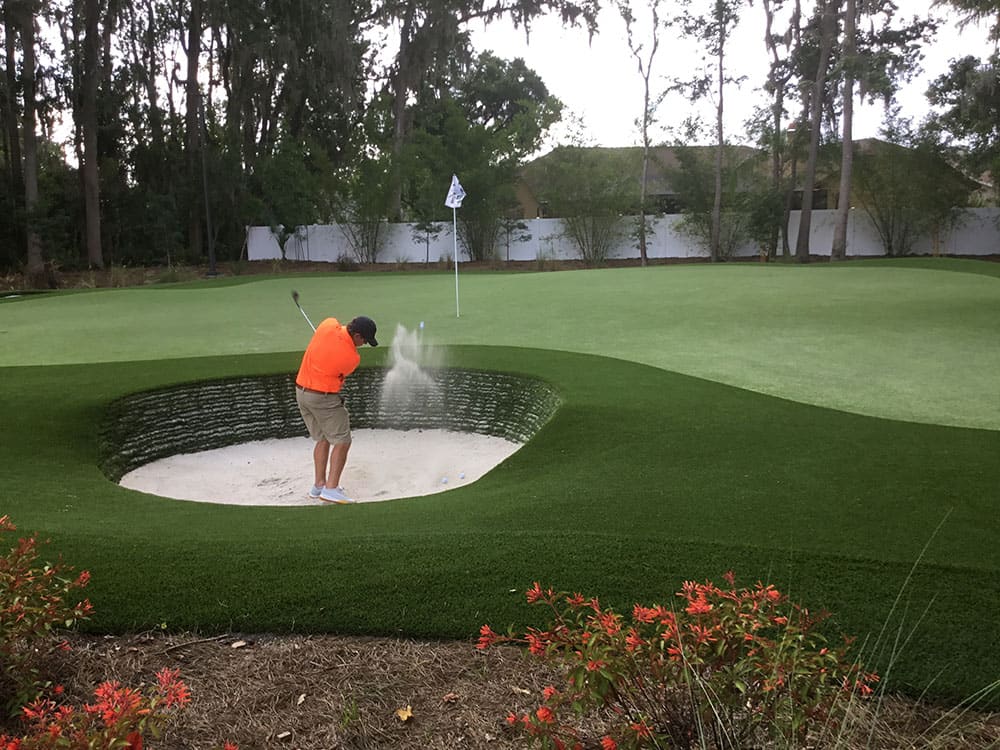 Get a FREE Artificial Grass Putting Green Estimate Today!

Proud Member of Celebrity Greens Dealer Network
Celebrity Greens is a nationwide leader in luxury golf greens and artificial grass installations. We pioneered the industry, perfecting the installation of high quality synthetic turf and introducing innovations in design and construction technology. We've built a solid reputation for exceptional aesthetics, scale and complexity of the design and the detailed execution of the project.
Authorized Dealers for Celebrity Greens are hand selected based on their industry knowledge, depth of experience and quality workmanship. They are highly specialized and highly trained in the design and installation of multiple synthetic turf applications.
PGA Tour Player Paul Casey on His Custom Celebrity Greens' Putting Green
–
Watch Peter Kostis, Top 100 Instructor and CBS Analyst, showcase his Artificial Putting Green in his own backyard!
–
2-Time Major Champion Mark O'Meara discusses why he chose Celebrity Greens